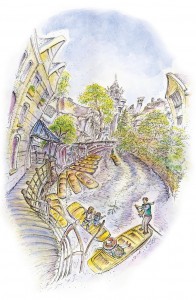 Based in Cambridge, Susan draws her inspiration from her local environment, evolving designs from the fascinating architecture and landscape.
Originally trained in architecture and computer animation she has produced art for the computer games industry and freelance graphic and illustration work for corporate clients. Finding herself increasingly drawn to working with traditional media, and in particular ink drawing and watercolour, her intricate drawings of buildings employ skills derived from studying technical drawing to portray a three dimensional and organic vision of the built environment.
She also paints on glass, wood and canvas incorporating a range of techniques including beadwork. Original works boast intricate detail and elaborate relief painting best appreciated when viewed in person. Limited and open edition prints and cards available to purchase.