Tell us what inspired Discs: A Theme Tune To Life.
The show includes people who are from wealthy or low income backgrounds, those that are/have been homeless, those whom have or are struggling with addiction. People with a history of abuse, mental health issues. All sorts really. Many of these issues span people from all walks of life and are most definitely not limited to those from poorer or broken homes. Unless an individual specifically said so, I did not mention people's backgrounds.
I am closet listener of Radio 4's "Desert Island Discs". Last year, listeners of the program submitted their own choices, which were aired and commented upon by a panel of presenters. A throw away comment suggested that some genres of music were under represented due to make up of the program's audience. This sparked off the idea. A pet peeve of mine is hearing people pigeon hole musical genres or the arts in general, to particular "types" of people. In fact, I pretty much dislike stereo-types in general, but we all make them, largely down to perception or lack of knowledge. So I wanted to quietly challenge this by bringing people together from varying walks of life and backgrounds.
The idea was to over lap / mix the shoot times so people perhaps interacted with others they would not ordinarily meet. Each individual's music choice was then used as a vehicle to tell their stories and thus create their own life's theme tune.
I love music, and I love listening to people's life stories. Like music, people are so diverse, yet we all share common themes (as with music), bit of a paradox really. I wanted to explore that further in some way. The exhibition is largely about the people. The images are therefore quite simple and as least "busy" as possible.
I want to raise the awareness of the great work that organisations like FLACK Cambridge are doing and hopefully raise some funds for them too.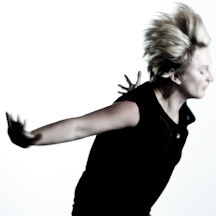 Tell us more about your work as a professional photographer.
I first became serious about photography when I did some aid work in the West Indies. My girlfriend at the time (now my wife) was very supportive and encouraged me to take it further. So I did the training and it went from there.
Beside the artistic projects, I mainly shoot advertising, portraiture and events, as well as teaching photography. I am so blessed, I love it. I get to meet interesting people, watch exciting performances and get paid for it! So clichéd, but having had a break from photography and music for a few years; it felt like part of me was dying. Creativity is such an intrinsic part of who we are. I believe we have one life, so we best make the most of it.
I am available for hire as a photographer, for commercial work, arts projects or teaching. You can find out more at www.markwoodsnunn.co.uk or email me at info@markwoodsnunn.co.uk.
What about the other artists involved – how has that worked?
It has worked well! I love fusion and collaboration. Whilst I am creative, I most definitely lack the skills in areas that I wished I possessed! I tend to have loads of ideas, but often need others to help me implement them, besides, I wanted a mix. It also reduces the risk is becoming too self indulgent. Ultimately, the piece should be about the people involved, not me. I just get a few ideas, listen to the participants, and take a few pictures
The really exciting thing is that people have been able to shine in what they are good at. No one said "I can't do that". In fact a couple of the pictures we have used in the documentary accompanying the exhibition were taken by students Liam & Phoebe who'd never done studio work before, I just handed them a camera and they had a go.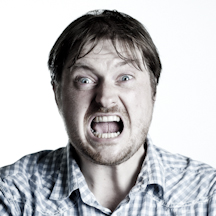 What's been surprising for you about this project?
How much people shared about themselves. Being a portrait photographer is such a privilege and comes with responsibility; some participants used the whole process as a form of therapy! Ultimately, I talk to people to form a connection; to help them relax in front of the camera. So we have a chat and at the end we have some pictures.
I was also surprised to hear stories from people who on the face of it, you'd never imagine would have such experiences. It was amazing the number of people who wanted to give up their time to take part, whether in front of the camera or contributing in some other way. If I had more time and a bigger budget, I have loved to have taken it much further.
Why did you decide to show at the Art Salon?
Great space, professional and reasonably priced too! Besides which, with out wanting to sound too smulchy, the Art Salon stands for many of my own principles, i.e. lets get the arts out to the community and encourage those that perhaps would not consider it their bag, to have a go. SO many people think they are not creative. It's such a lie. Everyone is, they just may not have discovered it yet! Anyway, creativity is not simply limited to what we traditionally refer to as the "arts". Read "The Element" by Sir Ken Robinson.
What's next for you?
I have a couple of community projects on the cards, and the usual teaching / photography work. I don't want to give too much away, but my next exhibition (to be launched next year) is a mix of sounds from often "unusual" sources and photographs / video included from non-trained artists. It is a modern twist on "The Carnival of the Animals", by Camille Saint-Saëns, entitled "Dr Doolittle's World of the Strange"…
All photo portraits purchased and ordered are in aid of FLACK Magazine http://www.flackcambridge.org.uk/FLACKmagazine/home.html
www.markwoodsnunn.co.uk