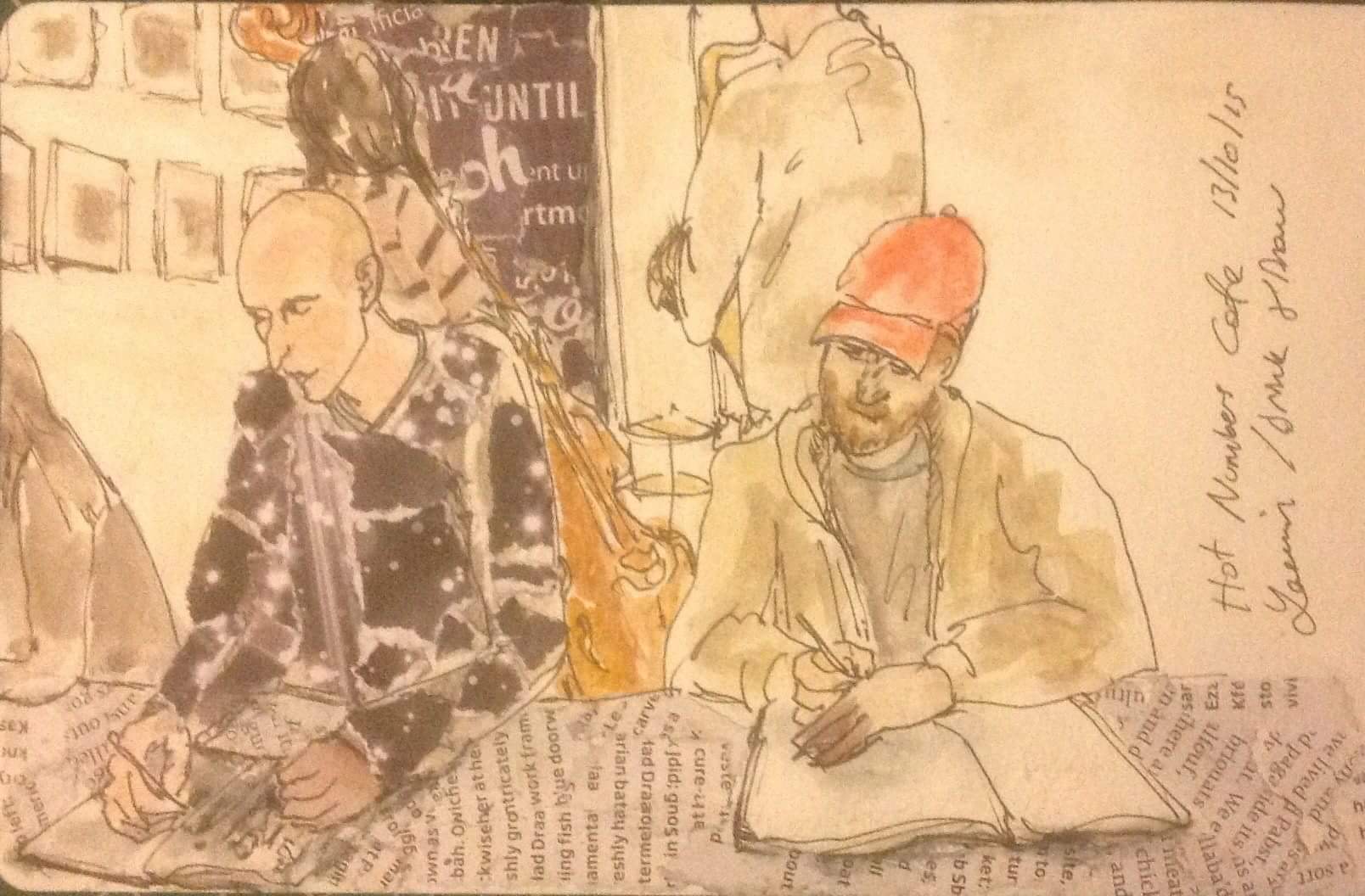 *Stop Press
Extended Opening Hours For Final Week (check full programme for special events too)
Tuesday 5th 12 – 4pm
Wednesday 6th 12-4pm
Friday 8th 12-3pm
From 26th March to 8th April 2016 at 1 Thrifts Walk.
A story tale themed exhibition with a twist from Collaborating Cambridge artists, Abi Stevens, Jill Eastland, Alan Rogerson, Yasemin Gyford, Karen Stamper & Henry Shepherd for a fortnight this Easter holidays. Expect anything – from a Madhatters tea party for families, political art commenting on Cambridge's housing crisis, ghost stories, poetry, the launch of SHINDIG's interactive art shop – and more.
The exhibition has a range of art for sale from independent artists in the city, includes free events and workshops, many for children and families, some strictly for adults, all will be fun. Look out for the hashtag #WeAreFamily16 for family friendly events, as part of the Art Salon's We Are Family project – www.cambridgeartsalon.org.uk/we-are-family/
Collaborating Cambridge is a broad group of Cambridge based artists. With the emphasis on collaborating, they produce work for group exhibitions and events.
'This is an exciting time for us as we are transitioning into a charitable association which gives us more opportunity to help the people and community we love. I set up Collaborating Cambridge because there are so many good quality artists in Cambridge but not enough platforms for them – buying from an independent artist is one of the best ways to support your local art scene,' says Faye Wright, founder of Collaborating Cambridge.
Faye herself can also be found at the likes of Stir Cafe, hosting family arts events.
It's important for artists to have space to breathe, experiment and sell to sustain their practices and grow. So we are also launching feedback boxes at this show to help develop the project – inviting the public and other artists to pass on their thoughts.
Please come along and support Cambridge artists by enjoying this work and buying from them. Prints for £20 and under, as well as cards and original art will be for sale. There will also be the chance to donate directly to Collaborating Cambridge, with fundraising buckets throughout.
'Not so private' view / opening night (FREE all welcome, bring a bottle!) #WeAreFamily16
All welcome, kids and adults, come and join in and see the amazing outcomes of the artists' interpretations of the 'stortelling' theme.
Saturday March 26th, 6 – 9pm
Alan's adults comic workshop (FREE)
Monday March 28th, 1-3pm
Selected range from Alan's Art Kiosk for sale.
Allographic poetry and storytelling (FREE)
Tuesday March 29th, 6-9pm
www.facebook.com/events/1002573416502568/
Poetry books will be on sale.
Mad Hatters Tea Party (FREE) #WeAreFamily16
Childrens arts and crafts party
Thursday 31st March 12 noon – 2pm
Prints, cards and original art will be on sale.
Cambridge Storytellers 'Local legends and Fen Mysteries' (FREE)
Friday 1st April, 6-8pm
www.facebook.com/events…/566856856805952
Prints by selected artists will be on sale from under £20
Furry Tales (FREE)
A family art & story workshop, getting ready for Strawberry Fair!
Saturday 2 April 12 noon – 4pm
Prints, art and cards will be on sale
Ghost Stories (ticketed – please contact SHINDIG for details)
Saturday 2nd April 6-9pm
Launch of interactive SHINDIG art shop
Kids collaging with Yasemin (FREE)
Sunday 3rd April 12 noon – 2pm
Prints, art and cards for sale
Soundscape stories (FREE)
Guided visualisation & meditation with singing bowls
Wednesday 6th  April 7pm – 8pm
Prints, cards and original art for sale
Virginity Café
(A taboo breaking philosophy cafe involving virginity stories)
Friday 8th April,3-5pm
Prints, cards and original art for sale
Closing gathering (FREE All welcome, bring a bottle!)
Friday 8th April,6-8pm
Prints, cards and original art for sale