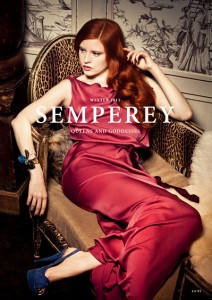 Cambridge Art Salon resident milliner Karen Lewis is featured in the Winter Issue of Semeperey magazine as part of a fashion piece written by Creative Director of the Salon Ruthie Collins.
This sophisticated lifestyle magazine brings you the best in organic beauty, vintage treasure, art and fashion. Spear-headed by fashion photographer Helena Tepli, the magazine has recently undergone a huge rebrand – with sumptuous photography and sparkling editorial.
Best read with a cup of organic hot chocolate.
http://www.semperey.com
Semperey Magazine is currently on sale in the gallery shop.