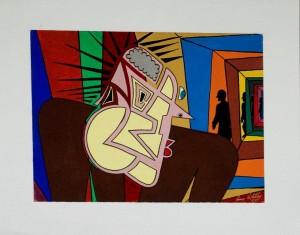 How Gary's paintings came to be hung in a Cambridge Library
Gary Critchley was born in Birmingham in 1962.  At the age of 17 he went to visit a friend in London for two weeks. Whilst there  he stayed in Campbell Buildings, a well-known squat at the time.  On the tenth day of the visit he was found on the pavement outside the squat, seriously injured, having apparently fallen or been pushed from  the 4th floor.  When the police investigated the incident, they found a man, Edward McNeill, who had been bludgeoned to death with a hammer.  McNeill's blood was all over the room, yet none of his blood was found on Gary.  Nevertheless and despite a complete lack of forensic evidence, Gary was arrested, convicted  and sent to prison at the age of 18. The judge recommended that he should serve no more than 8 years but, in fact, Gary spent 32 years in custody. He was literally 'raised in a prison'. Now, at the age of 50 he is serving the rest of his sentence in the community where he can be recalled to prison for a minor offence,  missing an appointment with his probation officer for example. Understandably, Gary has found his new life in the community extremely difficult and has struggled in many ways, particularly financially.
Gary has spent time in most of the toughest English prisons and during those years, became addicted to drugs.  He has now been clean for several years.  After a third suicide attempt in 2006, when he nearly died, an arts educator suggested that he take up painting.  In 2007, a Cambridge librarian, who was looking for some work to hang in the library, bought three of his paintings at the Koestler Trust Awards for Arts by Offenders, and began corresponding with Gary, whose prison address was attached to the paintings.
In the five years since then Gary has painted prolifically and painting has become a hugely important part of his life. Many of his paintings are very dark in feeling, some are humourous, most are full of intense detail. His work has been exhibited in a collaborative show, Parallel of Parallels in Adelaide, Australia, in Left in Vision (Marxism) London, and in We Are Birmingham Shop, Birmingham. This will be Gary's first solo exhibition. As a reminder, his paintings can be seen at The Cambridge Art Salon, 29 Cromwell Road, Cambridge, CB1 3EB from November 9-14 2012.
There will be an opening party on Friday November 9th from 6.30pm-8.30pm. Opening times are Saturday and Sunday 10am-5:30 pm, Thursday from 5pm-7pm, Friday from 10am-5:30pm.
You can find more information regarding Gary at http://www.b39969.org.uk